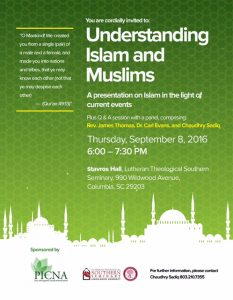 A presentation on Islam in light of current events. Panel discussion followed by Q&A with audience, Thursday, September 8, 2016, 6:00-7:30 PM at Stavros Hall of Lenoir-Rhyne Lutheran Seminary, 990 Wildwood Avenue, Columbia SC 29203.
Panelists: Rev. James Thomas, Dr. Carl Evans, Chaudhry Sadiq.
Presented by PICNA (Peace and Integration Council of North America) and Lutheran Theological Southern
Seminary/Lenoir Rhyne University.