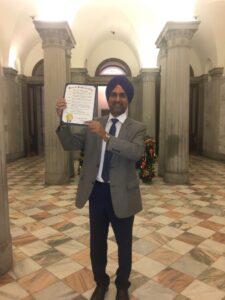 S.C. Interfaith Harmony Month Launches with Governor's Proclamation
FOR IMMEDIATE RELEASE: December 29, 2020
Contact: Holli Emore, PIO@interfaithpartnersofsc.org, 803-422-4565
COLUMBIA – Interfaith Partners of South Carolina held a virtual media conference this morning to announce the Governor's Proclamation that January 2021 is S.C. Interfaith Harmony Month, the signature initiative of Interfaith Partners of South Carolina, during which groups across the state will hold events (mostly virtual) to bring together people from different religious, spiritual, and secular backgrounds to celebrate our differences and South Carolina's rich diversity.
An array of diverse events will be presented throughout the month, most by online presentation. Just a few of those listed are:
Gandhi on Islam and the Prophet Muhammad presented by PICNA and Sound Vision
Interfaith Human Library presented by USC-Aiken in cooperation with Aiken Interfaith Partners Partners
Baha'i Faith devotions, interactive readings and prayers dedicated to the Oneness of Humankind, Racial justice, and Social action
Charleston Interfaith Proclamation by Charleston Mayor John Tecklenburg, Charleston Interreligious Council (CIC) President Dena Fokas Moses, and Interfaith Partners of South Carolina's Rev. Ed Kosak.
The Enduring Refinement of Humanity, presented by Freethought Society of the Midlands
Music as a Bridge Builder, how three people of diverse religious, spiritual, and secular paths came together during the pandemic to spread hope through an IPSC Spotify playlist
Coming to the Center: Earth Religions in Global Interfaith with Parliament of the World's Religion longtime board member Rev. Andras Corban Arthen
And many more listed at www.interfaithparternersofsc.org, representing a wide range of religious, spiritual and secular practices, including Judaism, Sikh, Pagan, Baha'I', Christian, and others.
Kickoff events are being held in Aiken, Beaufort, Charleston, Columbia, and Greenville. Organizations presenting multi- or interfaith events include USC-Aiken, Aiken Interfaith Partners, S.C. Victim Assistance Network, Atlantic Institute, USC Dept. of Student Life, PICNA (Peace and Integration Council of North America), Freethought Society of the Midlands, and Charleston Interreligious Council. All are welcome, and all events are free of charge.
Board Vice Chair Sarah Kurlowich commented that there are deep spiritual needs in our society which are heightened by the strains of the pandemic and other distressing events of the past year. Interfaith awareness and ways of communicating teach us how to live in South Carolina's diverse society, existing peacefully and cooperatively with those with whom we may have little in common.
Cheryl Nail, first woman Chair of IPSC, says, "Interfaith Harmony Month is more important now than ever. As we learn from our neighbors about their traditions and beliefs, not only do we find common ground that unites us, but also we honor the differences that make South Carolina strong."
For more information or to schedule interviews, contact Holli Emore, PIO@interfaithpartnersofsc.org or 1-888-849-1513.
The mission of Interfaith Partners of South Carolina is to bring together people of diverse religious, spiritual, and secular paths throughout our state to cultivate a more harmonious community. With over 300 participating individuals and groups, IPSC is the largest and most active interfaith organization of its kind in South Carolina.
Attached:
Governor's Proclamation
Calendar of Events link here
Video and audio montage of Governor's Proclamation read by IPSC board members link here
Photos from past events:
Board Treasurer Amarjit Singh holds up the previous year's proclamation [man with turban in State House rotunda]
Interfaith Partners of South Carolina during 2019 media event announcing January 2020 Interfaith Harmony Month proclamation by governor. [below]