All are welcome  – scroll down to find the latest in your region or click here to download a print copy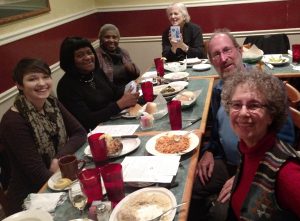 How to Build Trust Amid Division Tuesday, January 2
6:00-8:00 PM 6169 St Andrews Road, Columbia
Midlands Interfaith Meetup, dinner and discussion, at Zorba's Greek family restaurant.
Lifting the Veil on Islam Thursday, January 4
7:00 PM 3416 Middleton Drive, Augusta
Presentation by the Islamic Society of Augusta.
Peace, Harmony and Wellness of SC Meditation Saturday, January 6
3:00 PM S.C. State House
Power of Oneness Meditation by Mrs. Hima Dalal. This event will help manifest your goals for your health, your physical body and peace of mind and soul. limited seating options so please RSVP by e-mail at admin@vitalenergytherapy.com or by phone at (803) 359-1551. Limited number of chairs available, please bring chair, yogo mat or pillow to sit on as well as a blanket for extra comfort/warmth.
Interfaith Intercultural New Year's Blessing Service Sunday January 7
6-6:00 PM 604 Charles St. Beaufort
UICC Unified Interfaith Community Coalition of Beaufort.
Teach-In on the Boston Declaration Sunday, January 7
12:30 PM 2701 Heyward Street, Columbia
Launched at the November meeting of the American Academy of Religion and the Society of Biblical Literature, the Boston Declaration protests the demise of core Christian values in our current political, economic, and social environment. $5 donation for lunch, childcare available. Hosted by Unitarian Universalist Congregation of Columbia.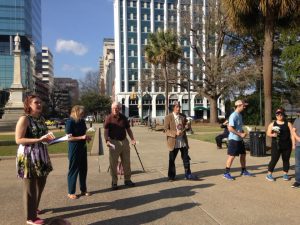 Interfaith Healing & Peace Ceremony Sunday, January 7
3:00 PM North side of S.C. State House, Columbia
Music, prayer and spiral dance presented by Temple Osireion.
What does your faith ask you to do about social injustice? Thursday, January 11
6:00-8:30 PM 2020 Assembly Street, Columbia
Women of Many Faiths in Columbia, fellowship and refreshments until 6:30, then facilitated discussion together.
Getting to Know Your Muslim Neighbor
Saturday, January 13
4-5:00 PM 517 Winmet Drive, Columbia
Join members and friends for refreshments and fellowship at an Open House at Masjid Noor al Huda. For more info, please contact Asim Siddique at 803.719.1112 or Imam Bashir at 803.477.4831
Parliament of the World's Religions Sunday, January 14
11:00 AM 334 Clayton Memorial Road, Newberry
Presentation by IPSC board member and Parliament Ambassador Jame Taylor at Clayton Memorial Unitarian Universalist Congregation.
Hindu Temple & Cultural Center Sunday, January 14
4-6:00 PM 1740 Jervey Street, Charleston
Presentations by different faiths and open forum discussion on angels and experiences. All are welcome. For more info contact Shroff_shaila@hotmail.com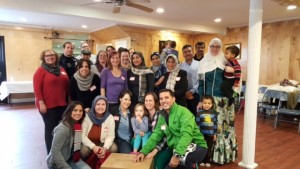 15th Annual Martin Luther King, Jr. Interfaith Prayer Breakfast Monday, January 15
7:30 AM 481 Hood Center Drive, Rock Hill
Annual event of the Rock Hill Community Relations Council, Dr. Derrick Alridge, native of Rock Hill and professor in the Curry School of Education at the University of Virginia, will serve as the guest speaker. Inspirational music, Dream Keeper award presentation, and student winners of the MLK essay contest.
Sabbath Service Friday, January 19
6:30 – 7:15 PM 5827 N. Trenholm Road, Columbia
Friday prayers and Torah reading followed by refreshments and fellowship.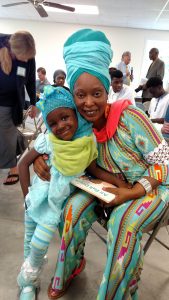 Elements of Unitarian Universalist Worship Sunday, January 21
11:00 AM 334 Clayton Memorial Church Rd, Newberry
Learn what the service means and why the UU faith is so important to so many.
Annual Prayer Service-Fellowship of South Carolina Bishops Tuesday, January 23
6:00 PM 1715 Bull Street, Columbia
An invitation to prayer and action in support of public education by bishops of the African Methodist Episcopal, African Methodist Episcopal-Zion, Christian Methodist Episcopal, Episcopal, Lutheran, Roman Catholic and United Methodist churches.
Shared Tables POSTPONED (new date TBA)
7-8:30 PM 4201 North Main Street, Columbia
Join us for an interfaith meal as we talk about how we are more similar than we are different. We will enjoy table fellowship and a meal together as people who are trying to bridge difference and make a difference in the world! At Lutheran Theological Southern Seminary, in Reinartz Hall. Register/tickets here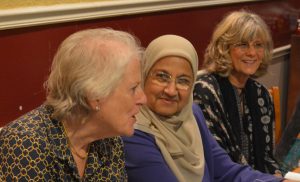 CSRA Womens' Interfaith Network Thursday, January 25
7:00 PM 515 N. Belair Road, Evans
Women's monthly dialog meeting, at First Baptist Church of Evans.
Interfaith Prayer Service Sunday, January 28
10-11 AM 1300 Fording Island Rd, Bluffton
Presented by Unity of Hilton Head.
Buddhist Meditation Sunday, January 28
10:00 AM 3003 Columbia Avenue, Columbia
Presented and hosted by at the South Carolina Dharma Group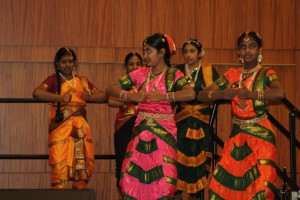 Blessed Community Sunday, January 28
11:30 AM 120 Pisgah Church Road, Columbia
Presentation and discussion by Columbia Friends Meeting (Quaker).
Light to the World Sunday, January 28
2:00 PM 2020 Assembly Street
New movie, prayers, fellowship and light refreshments presented and hosted by the Greater Baha'i Center of Columbia.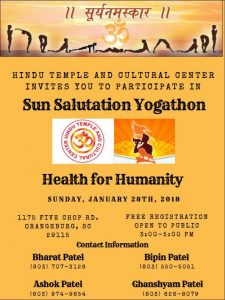 Sun Salutation Yogathon, January 28
3-5:00 PM 1175 Five Chop Road, Orangeburg
The Hindu Temple and Cultural Center invite you to participate. For more info: 803-707-3126 or 803-550-5051.
Contemporary Antisemitism: An Enduring Form of Prejudice and Hatred Sunday, January 28
7:00 PM 900 Senate Street, Columbia
Presentation by Deborah E. Lipstadt, Ph.D., Emory University professor and author of the book that inspired the film "Denial." In the MyCarolina Alumni Center Ballroom.
Feasting and Fasting: a Dialogue between Muslims and Jews Monday, January 29
6:30-8:30 PM Arnold Hall, 96 Wentworth Street, Charleston
The Christian Jewish Council of Greater Charleston invites you to join us for Charleston's Second Annual Celebration of Food and Faith! The program begins with dialogue between Rabbi Michael Davies and Imam Abdel Majid, moderated by Elijah Siegler, Professor of Religious Studies at the College of Charleston. Following the moderated discussions, attendees will form breakout groups and discuss issues beyond food, including Jewish and Muslim prayer practices, pilgrimage, clothing, scripture and charity. Discussions will coincide with a sampling of traditional Jewish (Kosher) foods and Halal dishes from the Muslim world. Admission is free and all are welcome! Co-sponsored by the College of Charleston Department of Religious Studies, Yaschik/Arnold Jewish Studies Program, Jewish Student Union/Hillel and the Arabic Club from the College of Charleston.
World Interfaith Harmony Week February 1-7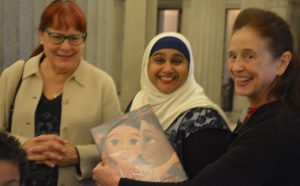 Dances of Universal Peace Friday, February 2
7:00 PM 2701 Heyward Street
Trained leader teaches and leads walks and dances inspired by different spiritual traditions.
Interfaith Celebration of Swami Vivekenanda's Gift to the World   March date TBA
5703 Kiawah Road, Columbia
Global Connection and Universal Oneness. Hindu Temple and Cultural Center hosts this celebration of one who burst onto the American scene in 1893 at the Parliament of World's Religions. A tribute to IPSC past president Dr. Will Moreau Goins, followed by priti bhoj, a vegetarian dinner (free).