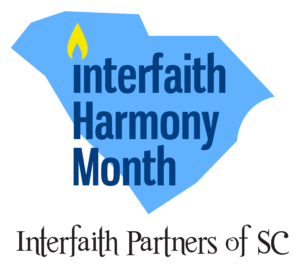 Upcoming Events:
2/3/2021      5:00 PM – 6:30 PM
Clemson Interfaith Café ~ How Does Your World View Connect To Hope & Healing
An interfaith conversation on hope and healing.  Connect around worldview, religion, faith, and ways of making meaning.
Click here to attend via zoom: bit.ly/InterfaithCafe121 
*** Postponed until late Spring ***
University of SC Interfaith Prayer and Meditation Spaces
Presented by University of South Carolina Department of Student Life
Join University of South Carolina students, staff, faculty and religious affiliates to learn about the growing number of campus interfaith prayer and meditation spaces being opened to support the spiritual and religious needs of our campus community.
*** Postponed until late Spring ***
2/7/2021      4:00 PM (Rescheduled from 2/2/2021)
Bridge Builders Charlotte: An Interfaith Campus-Community Case Study
Presented by Bridge Builders Charlotte
In this event, campus and community partners from Bridge Builders Charlotte will share their stories of strengthening our response to Covid-related needs through interfaith engagement. We'll hear from students, faculty, and non-profit leaders who participated in the first phase of this project.
Register here: https://us02web.zoom.us/meeting/register/tZ0sde-vpj0rH9dxOOriUMwQxT31hteYfruc 
Virtual Worship Services
Celebrate 2021 Interfaith Harmony Month
Sponsored by Aiken Interfaith Partners (An affiliate of Interfaith Partners of SC)
In Lieu of our Places of Worship Tour, we are offering the following links so, you may experience a Worship Service of a different Faith Tradition at your convenience.
Recent Events:
1/1/2021     10:00 AM – 11:15 AM
New Year's Celebration
Presented by SGI-USA Columbia Chapter
The Columbia Chapter of SGI-USA Nichiren Buddhism celebrates the arrival of 2021.  Songs, scripture readings and members sharing personal experiences in Buddhism are included in the program.
1/3/2021      9:30 AM – 10:45 AM
An Introduction to the Science of Mind and Spirit
Presented by Center for Spiritual Living Greenville
The first of four in our traditional January series, exploring the introduction to our main text and philosophy, "The Science of Mind", by Ernest Holmes (1938, Definitive Ed.) We begin with a guided meditation at 9:30, open our main program and host a short talk at 10:00, and transition into a conversation in which are all encouraged to participate, closing at 10:45. Those who care to may read the corresponding section of the text before attending as follows: 1/3 "The Thing Itself", pp 25-34, 1/10 "The Way It Works", pp 35-39, 1/17 "What It Does", pp 40-50, and 1/24 "How to Use It", pp 51-60. Facilitated on Zoom by Rev. Marcia MacLean and Rick Brugger, RSVP.
Link to video: https://www.facebook.com/cslgreenville/videos/174784987714808 
1/3/2021      11:00 AM
New Years, New Ears, Celebration of All Voices
Welcome in the New Year with Rev. Stephen Robinson
Link to video: https://youtu.be/SyIUaJDEFJk
1/4/2021      11:00 AM – 11:30 AM 
Interfaith Proclamation-Charleston
Presented by Charleston Interreligious Council
Please join Charleston Mayor John Tecklenburg, Charleston Interreligious Council (CIC) President Dena Fokas Moses, and Interfaith Partners of SC Secretary Rev. Ed Kosak at a press conference announcing a month-long series of faith-based events coordinated by the CIC in observance of Interfaith Harmony Month.
The press conference will feature a proclamation by Mayor Tecklenburg, who will be joined by representatives from 7 faith traditions, recognizing January 2021 as Interfaith Harmony Month in the city of Charleston.
The press conference was live streamed at https://www.facebook.com/CityCharleston/videos/186704926517709.
1/5/2021       7:00 PM – 8:00 PM
Midlands Interfaith Meetup: 8 Years of Memories & Lessons from Interfaith Harmony Month
Presented by Midlands Interfaith Meetup
A slide show of memories from our S.C. Interfaith Harmony Month activities over the years, and an invitation to share the most important things you have learned.
1/5/2021       7:00 PM 
Lowcountry Spirituals from the Sea Islands of Charleston, SC: A part of the 4th Annual
James Sawers Jr. Interfaith Speaker Series, African American Religious Diversity and
Dialogue
Join us for a live virtual session from Johns Island native, Christal Brown Heyward,
as she explores and explains the rich sounds of spirituals sung on the sea islands.
The distinctive sounds of hand-clapping, foot stomping, and call-response are
unique to the sea islands. Join singer, musician, and native-islander, Christal Brown
Heyward, for this uplifting time of music and Gullah Geechee music education.
1/8/2021      10:00 AM – 11:00 AM
Educational presentation by various faith leaders
Presented by Sikh Religious Society of SC, Chapin, SC
Educational Video and after video Q and A
1/8/2021      6:00 PM – 7:00 PM 
Gandhi on Islam and Prophet Muhammad
Presented by PICNA and Sound Vision
Imam Abdul Malik Mujahid, President-Sound  Vision, Chair Emeritus-Parliament of the World's Religion, and internationally renowned Islamic Scholar,  will speak about Gandhi's views on Islam and Prophet Muhammad
1/9/2021      10:00 AM – 11:30 AM
Historical Tour of St. Thaddeus Episcopal Church Cemetery
Presented by Aiken Interfaith Partners
This is an outdoor event.  A Historical Tour of the St. Thaddeus Episcopal Church Cemetery in downtown Aiken.  125 Pendleton St. SW Aiken, SC  Social Distancing and Masks will be required.  No registration needed.
1/10/2021      4:00 PM – 5:30 PM
The Enduring Refinement of Humanity
Presented by Freethought Society of the Midlands
Sarah Kurlowich will engage the audience in social time. Chad Aldamuy will give a presentation on reasons to for optimism in our world today.
1/14/2021      7:00 PM – 8:30 PM
My Neighbors Voice
Presented by My Neighbors Voice and Atlantic Institute SC
This is a virtual Zoom event where you follow the My Neighbors Voice format and will be in small groups that represent tables where you can share questions on Listening cards with a moderator and get to share your thoughts/opinions.
1/14/2021      5:00 PM – 5:45 PM
A tour of the Jewish faith and place of worship, Beth Shalom Synagogue
Presented by Beth Shalom Synagogue
An explanation of the Jewish faith, a tour of the synagogue and responding to  questions.
1/14/2021      6:00 PM – 8:00 PM 
Women of many Faiths – January Meeting
Presented by Women of Many Faiths
The purpose of the Women of Many Faiths is to promote interfaith/intercultural understanding and to build goodwill.  While matters of faith and a desire for spiritual growth are what draw us together, it is not necessary to be a practicing member of a specific religious group or tradition to be a participant or become a member of Women of Many Faiths.  We value a diversity of backgrounds and perspectives and the opportunity to learn from one another in a spirit of openness, sensitivity, respect, trust, friendship, and support.
Questions: Contact Linda Ciaccia-Ghith at lindaciaccia@yahooo.com
Location: Zoom  – email to request link
1/14/2021      11:00 AM
Sacred Spaces Tour of the Hindu Temple of Charleston
Learn about the Hindu faith and community of Charleston as a Hindu Faith Leader
offers a tour of the Hindu Temple of Charleston.
Link to video:https://www.facebook.com/CharlestonCJC/videos/238796454421197
1/17/2021      3:00 PM 
Music as a Bridge Builder
Presented by Interfaith Partners of SC
Learn how three people of diverse religious, spiritual, and secular paths came together during the pandemic to spread hope through an IPSC Spotify playlist. This moderated discussion explores the importance of music during challenging times and music's ability to build bridges between people.
Link to video:https://www.facebook.com/415493358489963/videos/401320954509427/
1/18/2021      10:00 AM – 11:30 AM 
Interfaith MLK Day Dialogue
Presented by Sustaining Way, Atlantic Institute, My Neighbors Voice & SC Poor People's Campaign
Interfaith Dialogue targeting people of various faiths from across the state to engage in discussion about how to cultivate peace. The event includes a 40 minute moderated discussion with Reverend John Reynolds, SC Civil Rights Activist followed by 40 minutes of moderated small group dialogue.
Link to video:https://youtu.be/zWdDPL8Dh3E
1/19/2021      7:00 PM 
Interfaith Awareness: Human Trafficking Impacting Your Community & Next Steps
Presented by the South Carolina Victim Assistance Network (SCVAN).  Please register to participate with us for our webinar panel discussion, with crime victim advocates and faith community leaders all involved with anti-human trafficking work around our state in collaboration with faith communities:
Shelbia Wiley: Survivor/Minister/Educator/Advocate and Interfaith Subcommittee Co-Chair with the Coastal Human Trafficking Task Force in Myrtle Beach.
Elizabeth Rummel:  Anti-Human Trafficking Project Coordinator for Richland County Human Trafficking Task Force.
Captain Heidi Jackson: Richland County Sheriff's Department victim services division
Arelis Alcantara: Faith Based Victim Services Assistant Project Director at SCVAN, Interfaith Subcommittee Chair, for the Upstate Human Trafficking Task Force, and faith community leader.
Roger Acton: Faith Based Victim Services Project Director @ SCVAN, Interfaith Subcommittee Chair for our state's Human Trafficking Task Force, Marketplace Chaplain and new Member at Large, IPSC Board.
In 2020, with improved reporting in many South Carolina counties, the top five counties in South Carolina for human trafficking were: #5 Anderson, #4 Richland, #3 Greenville, #2 Charleston, and #1 Horry.  Many of our friends and affiliates of Interfaith Partners of South Carolina are in these counties.  And if your county was not listed, it means the reporting needs to improve, the crisis is not really known, and anti-human trafficking work efforts are more needed than ever before.  And also know that ultimately, safe at home is not really safe at home for human trafficking victims, during this pandemic.
We look forward to providing interactive question and answer opportunities, and engagement with our chat room throughout the webinar.  Thank you for your registration and please share this training event with other faith leaders.
1/19/2021      7:00 PM
The Black Catholic Experience: A part of the 4th Annual James Sawers Jr. Interfaith
Speaker Series, African American Religious Diversity and Dialogue
Judge Arthur McFarland, Municipal Court Judge for the City of Charleston for 33 years
and native of Charleston's Eastside community, will offer a presentation about the
Black Catholic Experience nationally and in Charleston.
1/23/2021      3:00 PM – 4:30 PM 
Coming to the Center: Earth Religions in Global Interfaith
Presented by Temple Osireion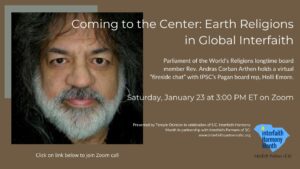 Parliament of the World's Religion longtime board member Rev. Andras Corban Arthen will hold a virtual "fireside chat" with IPSC's Pagan board rep, Holli Emore.  Andras Corban-Arthen is the founder and spiritual director of the EarthSpirit Community. Andras has taught and lectured publicly about the pagan traditions throughout the U.S. and abroad since the 1970s, and has been featured in a number of books as well as news media. He recently served as Vice-Chair of the Board of Trustees of the Parliament of the World's Religions, the oldest and largest interreligious organization. He was chosen to represent the pagan traditions at the United Nations Interfaith Conference on Religion and Prejudice in 1991, and has been a featured presenter at the Parliaments of the World's Religions held in Chicago, Barcelona, Melbourne, and Salt Lake City, as well as at the Encuentro Mundial Interreligioso and the Diálogo Cultural Universal in México. More recently, he spoke at the Religions for the Earth conference, and at the concurrent People's Climate March, in NYC. Andras also serves as president of the European Congress of Ethnic Religions headquartered in Vilnius, Lithuania, and sits on the advisory board of the Ecospirituality Foundation, a United Nations Consultative NGO based in Torino, Italy. Originally from Galiza, Spain, he lives with his extended family in Glenwood, a 135-acre pagan sanctuary and nature preserve in the Berkshire Highlands of western Massachusetts.
Presented by Temple Osireion in celebration of S.C. Interfaith Harmony Month in partnership with Interfaith Partners of SC.
1/24/2021      4:00 PM 
Truth Restored: Debunking "Mormon" Myths
Presented by The Church of Jesus Christ of Latter-Day Saints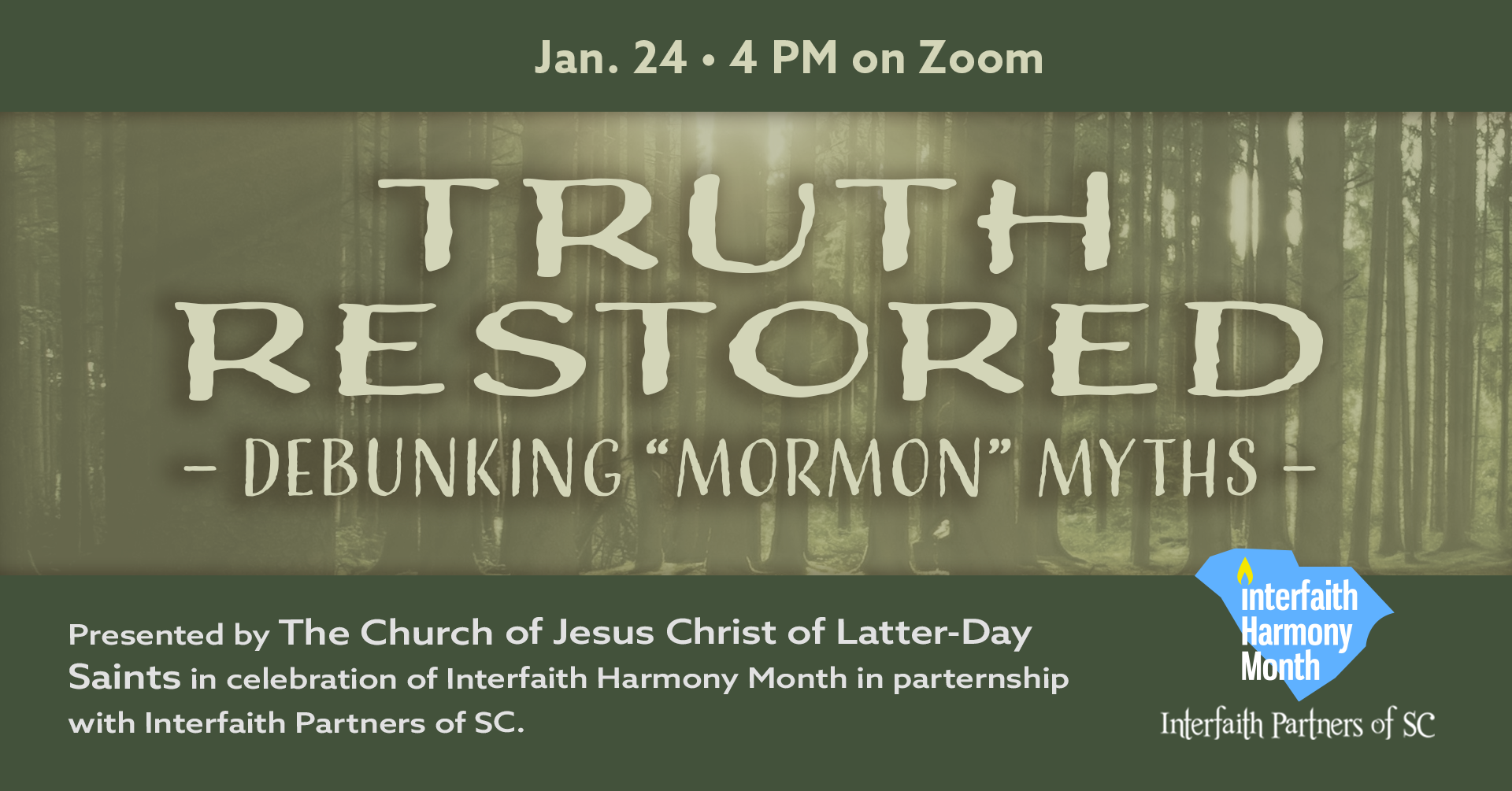 The Church of Jesus Christ of Latter-day Saints recently commemorated the 200th anniversary of Joseph Smith's First Vision.  In 200 years, this American born faith has spread to congregations across the globe. Come find out about their history, beliefs, and temples at our Jan 24th by zoom at 4:00 PM. This presentation will be given by C. Nathan Hancock, President of the Aiken SC Stake.  In addition to his religious stewardship, he teaches plant biology at the University of South Carolina Aiken. So you can ask him anything from how to discover your ancestry roots to how to prune your peach trees!
1/25/2021      11:00 AM – 12:00 PM
Online Book Launch and Webinar: Ecumenical and Interreligious Guidebook: "Care For Our Common Home"
Catholic Association of Diocesan Ecumenical And Religious Officers invite you to the book launch and webinar on the Care of our Common Home.  The book launch and webinar is focused on interfaith dialogue regarding care for the Earth.
1/25/2021      5:00 PM
Gandhi-King Season for Nonviolence
Rev. Jim Taylor will interview Dr. Barbara Fields about the The Gandhi King Season for Nonviolence (SNV) of which she was a co-founder. The Gandhi King Season for Nonviolence commences on January 30, in cities across the globe. Co-founded in 1998 by Dr. Arun Gandhi and The Association for Global New Thought (AGNT), the Gandhi King SNV is an educational, media and grassroots campaign focusing awareness on the philosophy of attaining peace through nonviolent action. The 64-day campaign spans the January 30th and April 4th memorial anniversaries of Mahatma Gandhi and Dr. Martin Luther King, Jr.
Link to video: https://vimeo.com/505509174
1/25/2021      6:30 PM – 8:30 PM
Food and Faith 2021: Faith and Community During the Pandemic
All are invited to participate in a LIVE VIRTUAL panel discussion about the adaptations and limitations experienced in faith communities this year. After the conversation, panelists will answer questions followed by break out into sessions where participants will get to know and talk with one another about faith during the pandemic.
1/28/2021      6:00 PM – 7:00 PM
What is Paganism?
Presented by 3 Rays of Light
Curious about paganism? This presentation via Facebook Live will introduce paganism and it's basic beliefs. We will touch on some pagan history, how paganism has influenced culture, and what all pagans have in common. Whether you identify as a pagan, or simply are curious to learn about another faith, we welcome you to join!
If you wish a further experience, there will be a Full Moon Ceremony at 8pm following this class, and you are invited to participate or observe using Zoom.
1/28/2021      8:00 PM – 8:45 PM
Full Moon Ceremony
Presented by 3 Rays of Light & Awen Grove Fellowship
Join in a virtual community Full Moon Ceremony celebrating the coming Midwinter beneath the Wolf Moon of January 2021. We will be honoring Brigid in her forms as Saint Brigid as well as the goddess Brigid by creating a St. Brigid's cross together. Our ceremony will focus on preparing for the coming Spring through meditation and ritual. All are welcome, and participation is not required – you are always welcome to observe.
1/30/2021      10:00 PM – 12:30 PM
Interfaith Human Library
Presented by USC-Aiken in cooperation with Aiken Interfaith Partners Partners
The Interfaith Human Library creates an opportunity to have a private, virtual, one-on-one conversation and ask questions to a "living human book" representing an individual faith tradition. The Interfaith Human Library provides a great environment for conversations that allow the "reader" to learn about different faiths and overcome any biases and/or prejudices based on lack of sound information. Interfaith Human Books will be available from 12-plus faith traditions. There will be various time slots available to reserve an Interfaith Human Book for 20-minutes via Zoom.  Please consider signing up for one or more sessions with Books.
1/31/2021      11:00 AM – 12:00 PM
A Baha'i Devotional on Unity
Presented by The Baha'i Faith of Lexington Co, North
A devotional on Unity using interfaith as well as Baha'i Writings, and discussion.
2/1/2021      4:30 PM – 5:30 PM
Interview with Dr. Larry Greenfield Executive Director Emeritus of the Parliament of the World's Religions, and among roles served as President of Colgate Rochester Crozer Divinity School, an illustrious institution which claims such Civil Rights and Social Justice giants as Martin Luther King Jr. and Howard Thurman as graduates.