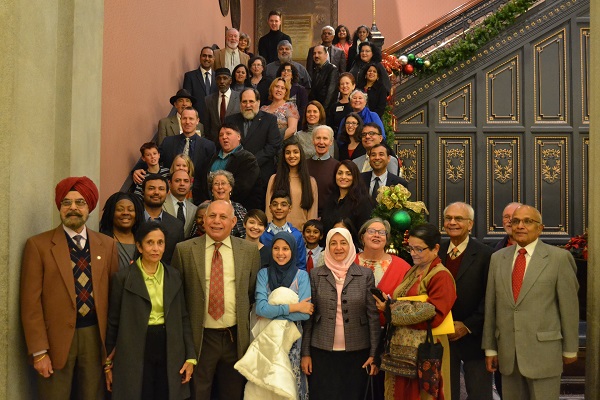 Buddhist: New Year Celebration
Tue Jan 1  at 1-2:30 PM
Join the members of SGI-USA Nichiren Buddhism as we celebrate the beginning of 2019. The beginning of each New Year gives us the opportunity to reflect on the year before and set goals for the New Year. Hear from Nichiren Buddhism members about their journey as Buddhists. SGI-USA 228-B O'Neil Court, Columbia. For more information, contact: eahendley@gmail.com
Interfaith: Stories from the Parliament of the World's Religions
Tuesday, Jan 8 at 6–8 PM
Members of IPSC will show and tell about their time at the world's largest and oldest interfaith gathering, the Parliament of the World's Religions. Hear about what we saw, what we learned, and what we'll never forget!  Join old and new friends from many faiths for good food and fellowship. All are welcome, whatever your religion or non-religion! We order separately, no required order minimum. Location: Zorba's Greek Restaurant, 6169 Saint Andrews Road in Columbia.
Interfaith: Women of Many Faiths
Thu Jan 10 at 6-8 PM
Monthly meeting of women of diverse faith traditions for fellowship and discussion. The topic will be "Holy Leisure: what activities have you chosen or could you choose to deepen the meaning of your life?" led by Sister Nancy Hendershot. Refreshments served.
Hosted by Shandon United Methodist Church at 3407 Devine Street, Columbia
For more information, contact: Cardor43@mac.com
Interfaith: IPSC Peace in the Park 'Art Gallery'
Sun Jan 13 at Noon-3 PM
Display of entries to 2018 Peace In The Park art and photography exhibition
McGregor Presbyterian Church 6505 St Andrews Rd Irmo
For more information, contact: Adrian Bird 803-319-1439
Muslim: Compassion in our Many Faiths
Sun Jan 13 at 3-5 PM
Panel discussion followed by Q&A session. Visitors will be able to observe at least one Muslim prayer, meet with their Muslim neighbors and enjoy snacks. Modest clothing is recommended.
PICNA and Masjid Noor Ul Huda 517-Winmet Drive Columbia
For more information, contact: Chaudhry Sadiq 803.210.7355
Christian: Annual Martin Luther King, Jr. Community Celebration
Sun Jan 13 at 4-6 PM
Annual MLK, Jr. celebration in the Eau Claire/N. Columbia area brings together people of racial and religious diversity from various communities. Service at Ascension Lutheran Church includes uplifting gospel music selections and a guest speaker who gives a message relating to the progress we have made regarding racial reconciliation as a nation. The service always ends by joining hands and singing "We Shall Overcome," followed by a meal in our fellowship hall. This will be the 9th year of this event to be hosted at Ascension.
827 Wildwood Avenue, Columbia
For more information, contact: 803-786-6429
Jewish: Judaism 101: Ethics, Spirituality and Peoplehood
Thu Jan 17 at 7-8:30 PM
Barry Abels, Executive Director of the Columbia Jewish Federation and Katie & Irwin Kahn JCC, gives an overview of Judaism through an exploration of Jewish ethics, spirituality, and peoplehood.
Katie & Irwin Kahn Jewish Community Center
306 Flora Drive, Columbia 29223
For more information, contact: contact: 803-787-2023
Sikh: Kids From Many Faiths
Sat Jan. 19 at 11 AM-3:30 PM
Movie, discussion, lunch, traditional Punjabi game and snacks for kids from all faith groups.
Sikh Religious Socety of South Carolina 11419 Broad River Rd Chapin
For more information, contact: Amarjit Singh 917-415-0464
Secular/Unaffiliated: Coffee and Conversation
Sun Jan 20 at 2:30-4:30 PM
Your atheist, agnostic, Humanist, Freethinker, and unaffiliated neighbors want to get to know you. We will be at a local coffee shop, sharing conversation and some casual games for anyone who would like to play. Drop in, enjoy a beverage, and relax with us. (We don't bite!) Co-hosted by Freethought Society of the Midlands and Palmetto State Atheists.
The Local Buzz
141 S Shandon St
Columbia, South Carolina 29205
For more information, contact: sarahreadsemail@gmail.com
Hindu: Bhajan Satsang
Sun Jan 20 at 5:30-6:45 PM
A Bhajan is a centuries-old Indian tradition of devotional song, and "satsang" means a gathering of people. This Bhajan Satsang will be followed by a delicious Indian dinner.
Hindu Temple Orangeburg, 1035 Five Chop Rd, Orangeburg
For more information, contact: (803) 531-7522
Interfaith: Advocacy Skills Training for Interfaith Partners
Sat Jan 26 at 9:30-11:00 AM
Interfaith friends in the western part of Lexington County will provide a general advocacy skills training from a faith perspective, including how to build relationships with elected officials and their staff, how to have civil conversations about issues with friends and family, how to write a persuasive letter-to-the-editor, how to organize an advocacy meeting with an elected official and how to plan a faith-based vigil.
Gilbert-Summit Branch of the Lexington County Public Library, 405 Broad Street, Gilbert, SC
For more information, contact: call Sara Damewood 803-730-4987
Interfaith Harmony Celebration
Sat Jan 26 at 4-6 PM
Welcome one and all! Build bridges and break bread together. Our simple program will feature a light potluck. We ask that you bring a favorite bread representing your culture, faith or simply what you serve at your family table. We will also provide olives, figs, dates and other fruits. We will emphasize the simplicity by serving cool water. A short presentation by an officer of Interfaith Partners of South Carolina on the Governor's Proclamation declaring January 2019 as South Carolina's Interfaith Harmony Month. A 15 minute video of Rabbi David Rosen addressing the Parliament of the World's Religions telling one man's interfaith story with humor and wisdom. Food, fellowship and fun at no charge!
St. John's Lutheran Mission Building, 157 Lady's Island Dr., Beaufort, SC.
Unitarian Universalist: On Prison Reform
Sun Jan 27 at 11 AM-1 PM
Our congregation invites the public to join us for a presentation by Lester Young on Prison Reform. Following the service, please join us for refreshments and conversation in our Social Hall.
Unitarian Universalist Congregation of Columbia at 2701 Heyward Street, Columbia
For more information, contact: csoehl@soehl.com
Pagan: Lights of Nut
Sun Jan 27 at 7 PM
Each of us makes our own journey through the night, seeking the light of understanding. While we must make a solitary journey, we are not alone. The deep blue body of Nut, the sky mother, embraces and receives us all, and gives rebirth to us with the dawn.
Temple Osireion, RSVP for directions to home in Columbia
For more information, contact: Holli Emore holli@sc.rr.com
Muslim & Jewish: Third Annual Celebration of Food and Faith!
Mo Jan 28 at 6:30-8:30 PM
Blessings: a Dialogue between Muslims and Jews. Join college students and community leaders for a conversation about cultural and religious points of view between Jews and Muslims. The central topic will be the use of "blessings" in prayer, ritual and everyday life. Commonalties and differences will be covered. This will be followed by sampling of traditional Jewish (Kosher) and Muslim (Halal) food dishes.
The program begins with a discussion between Rabbi Michael Davies, local Orthodox rabbi, and Imam Shamu Shamudeen, and Charleston Imam moderated by Elijah Siegler, Professor of the Department of Religious Studies at the College of Charleston.
Following the moderated conversation, attendees will form breakout groups and discuss issues beyond blessings, including Jewish and Muslim dietary practices, pilgrimage, clothing, scripture, charity and more.
Admission is free and all are welcome! No reservations are needed.
Charleston Interreligious Council with College of Charleston Department of Religious Studies, Yaschik/Arnold Jewish Studies Program, Jewish Student Union/Hillel from the College of Charleston.
The Mosque of Charleston Arnold Hall, 96 Wentworth Street Charleston
For more information, contact: Ken Fox sckenfox@comcast.net
Interfaith: A Taste of Interfaith
Thu Jan 31 at 10:00 AM – 2:00 PM
Join The Academy of Faith and Leadership and the Interfaith Partners of South Carolina for "A Taste of Interfaith" Thursday, January 31st from 10- 2 pm. We invite you to come and meet the Interfaith Partners of South Carolina, taste cuisine from the interfaith community, and find out more about the strong interfaith network in Columbia. Open to all but best to register here.
Academy of Faith and Leadership at Lutheran Theological Southern Seminary, 4201 North Main Street Columbia, Reinartz Hall. Columbia.
Native American: Celebration of Native American Spirituality
Sun Feb 3  at 9:30 AM-12:30 PM
At its 9:30 and 11:15 services, Unity Church will host Rev. Catherine Nelson and friends who will provide music, drums, message, Calling of the Four Directions. Smudging will occur outside the sanctuary.
2535 Leeds Ave, North Charleston.
For more information, contact: Ask for Ed or Elizabeth, or call Catherine at 843-217-0962
Interfaith: Dances of Universal Peace
Fri Feb 1 at 7-9 PM
Dances of Universal Peace are active meditative practices honoring the positive spiritual energy in the world's many different faith traditions. DUP began late in the twentieth century, sponsored by the universalist Sufi Ruhaniat International order.   Each dance increases our awareness of the Divine in and around us. For each dance, our mentored leader teaches us a sacred phrase, its meaning and melody, and the motions of the dance. Then we are led to chant and move through several iterations of the dance, to deepen our spiritual connection to the universe. Expect respectful hand-holding, eye contact, and occasional hugs as part of the dances.   In our usual two hour session, we typically do several dances and share some blessings, prayers, and poems. Admission is free, and donations are accepted to support the dances. After dancing, we usually socialize for a while. For more information about DUP, see  http://www.dancesofuniversalpeacena.org
Unitarian Universalist Congregation of Columbia 2701 Heyward Street Columbia
For more information, contact: Marguerite Frongillo, mff426@gmail.com, 803-743-0731
Unity of Hilton Head and UICC
TBA