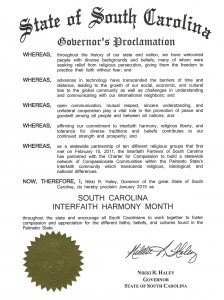 S.C. Governor Nikki R. Haley has issued a formal proclamation naming January 2015 "South Carolina Interfaith Harmony Month." She will make the announcement at a January 7, 2015, meeting with leadership of the Interfaith Partners of S.C. organization.
The proclamation notes that "throughout the history of our state and nation, we have welcomed people with diverse backgrounds and beliefs, many of whom were seeking relief from religious persecution, giving them the freedom to practice their faith without fear." It closes with a call for all South Carolinians to "work together to foster compassion and appreciation for the different faiths, beliefs and cultures found in the Palmetto State."
During South Carolina Interfaith Harmony Month, Interfaith Partners presents a calendar of special religious services and events to which the public is invited. Many of the events are an opportunity for people to learn about and experience communities of faith with which they may be unfamiliar. Click here for listing.
"The reality of living in a multifaith society is all around us and is historically part of being an American," said the Rev. Roy Mitchell, chaplain at Columbia College and current president of Interfaith Partners of S.C. "We live, work, and attend school together. When we get to know the "other" fear is diminished and we find that our own faith is strengthened and grows deeper."
The mission of Interfaith Partners of South Carolina is to foster understanding and cooperation among the religious groups of the state through education, dialogue and collaborative projects, in order to assure that: all people are treated with dignity and respect; the religious freedom of all groups is protected; each religious group's practices and teachings are given respectful consideration; and interfaith discussions will become conversation models that others will want to emulate.