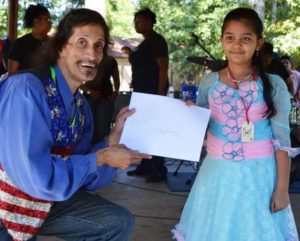 Let's use art to tell the world that we can be at peace with each other, even if we are different! The IPSC Art & Photography competition promotes harmonious relations, dignity and respect of all people, recognizing and encouraging artistic talent among all faith communities.  All students are welcome to contribute their unique and creative artwork, and winners from all age-categories will receive prizes at the "Peace in the Park" festival.
Competition themes:
Interfaith Harmony in South Carolina
Peace In Our Community
Artwork will be displayed at the Peace in the Park festival on October 7, 2018 at 1400 Greene Street in Columbia, where winners will be awarded prizes.
All submissions will be considered for inclusion in the 2019 Interfaith Calendar. Should your submission be selected, the original of your artwork/photography will be requested.  Winning entries will also be invited to be displayed as part of a 'traveling gallery' at various religious spaces in the months following the Peace in the Park festival.
Prizes will be awarded in each division category:
Division 1: Pre-Kindergarten to Grade 2 (1st prize $50; 2nd prize $35; 3rd prize $20).
Division 2: Grade 3 to Grade 5 (1st prize $50; 2nd prize $35; 3rd prize $20)
Division 3: Grade 6 to Grade 8 (1st prize $75; 2nd prize $50; 3rd prize; $30)
Division 4: Grade 9 to Grade 12 (1st prize $100; 2nd prize $75; 3rd prize; $50)
Division 5: College students (1st prize $150; 2nd prize $100; 3rd prize $75)
Division 6: Group Artwork (any age) (1st prize $100; 2nd prize $75; 3rd prize; $50)
Deadline to submit your entry:  By midnight on Friday, August 31, 2018! NOW CLOSED
Who Can Enter: Any South Carolina student currently enrolled in grades pre-K-college in any school, including home-school and tribal school.
How will the artwork be judged? Artwork will be judged by representatives of the IPSC Board, using the following criteria:
Originality (30 points)
Artistic Quality (30 points)
Effective Use of Color/Value (20 Points)
Clever Approach to Theme (20 points)
Awards Ceremony: Awards will be presented at the Peace In The Park festival on Sunday, October 7, 2018,  at 1400 Greene Street in Columbia.  Photos of winners and their artwork will be taken during the ceremony. Winners will be notified by September 16. Decisions of the PITP judges are final.
How to Enter:
First – scan your art and save it as a computer file, either a jpg or a pdf.
Second – scroll down and fill out the contest form
Third – when you fill out the form, click the button near the bottom to attach your computer file
Rules:
Your artwork must be original in concept and design, and may not violate any U.S. copyright laws.
If you submit a picture of any people, all persons featured will be required to sign a release granting permission for their images to be submitted. Parental consent must be given for all children under 16.
If you are under age 18, download this release form and submit with your entry.
If you are 18 or older, download this release form and submit with your entry.
Questions?    Contact Us
This contest is now closed to new entries. Visit Peace In The Park to see all work display and prizes awarded.